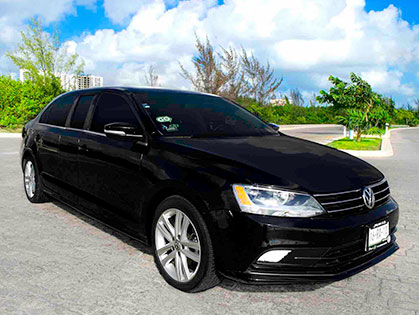 Can You Arrange Transfers and Accommodation?
We can arrange air-conditioned transfers and can accommodate you in our spacious self-catering apartments. All you have to do is get to Cancun Airport!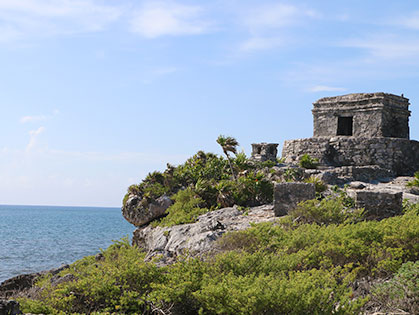 What else is there to do other than diving?
The Riviera Maya is a great tourist destination, with beautiful beaches, Mayan ruins, theme parks, great bars and restaurants. We can suggest some incredible days out including kayaking, swimming in the ancient canals, birdwatching, Mayan cultural visits, Mexican cookery and yoga tours. Basically, we can provide a creche facility for your non-diving partner – with or without tequila.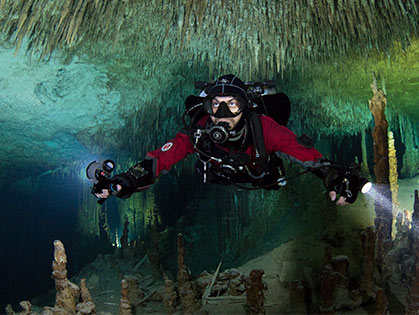 What is the difference between Cavern and Cave diving?
Cavern diving in the beautiful cenotes can be experienced by any qualified Advanced Open Water/Sports Diver (or equivalent). One of our experienced and friendly guides will take you on a permanent line that is within a short distance of open water and will abide by strict rules to ensure your safety. Cave diving takes place in passages beyond the cavern zone and requires specialist training, which we can provide.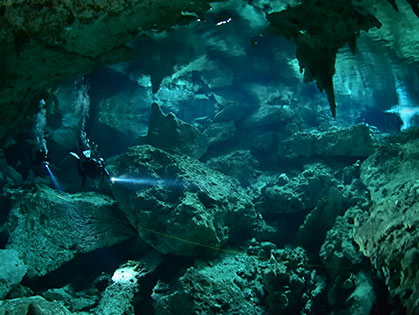 I get a bit claustrophobic and don't like the idea of small tunnels. Can I cavern dive?
A lot of divers can be nervous about going into the overhead environment, which is a healthy attitude to take! The caverns are close to daylight and we can start off on dive sites where you can ascend to open water within a few meters. None of the cavern lines go through small cave or any restrictions and you will be in a large, room-sized space for most of the dives. We tailor all our tours to the experience and comfort of the individual diver, providing one-on-one guiding if required.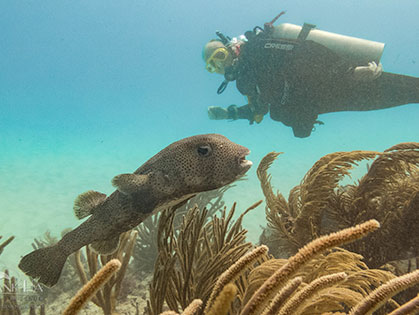 Is there any ocean diving?
Loads! The Mesoamerican reef, second only in size to the Great Barrier reef is just off the coast. We can also arrange day trips to Cozumel, diving with turtles at Akumal and Bull Sharks off Playa del Carmen (in season).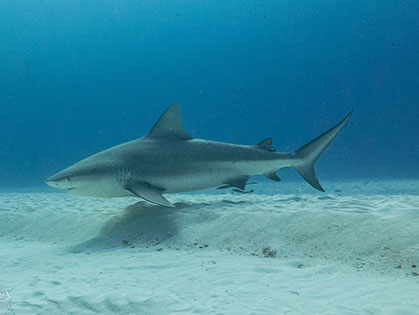 When can I see Bull Sharks and Whale Sharks?
The usual seasons for Whale Sharks are June to September and Bull Sharks from November until early March. The sharks probably don't read our website, so this may differ by a few weeks either side. We can arrange bull shark diving in Playa del Carmen, and you can snorkel with whale sharks from boats outside Cancun.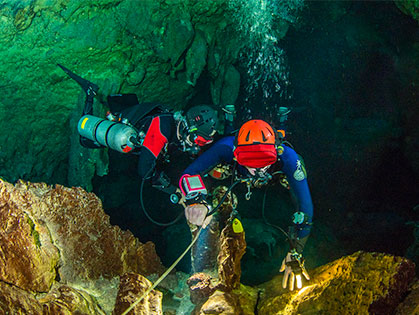 What is involved in a cave course?
Cave diving involves a high degree of precision and control, so you need to be a reasonably confident diver before starting training. A hundred dives is a good benchmark of experience, and students with some experience with twinset diving tend to get more from the course. If you have not dived in a twinset or sidemount before, it is a good idea to take an Essentials or Sidemount course before starting cave training. The course itself is usually in 2 parts. The first 5 days is a combined Cavern and Intro to cave course, where you learn how to safely dive the mainline, including dealing with emergencies such as zero visibility, out of gas and losing the line. We then recommend you do some cave diving with a buddy or with one of our guides to get some experience, before completing a further 4-5 days of training in complex navigation and other more advanced skills to become a full cave diver.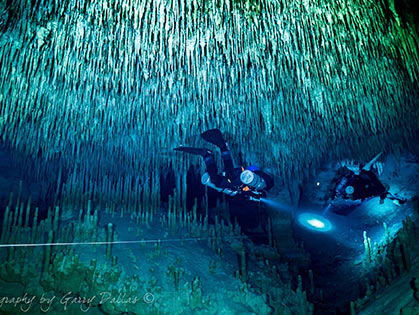 Should I Dive Backmount or Sidemount?
We teach both backmount and sidemount cave courses, and advise our students to dive the configuration they are most comfortable with – cave training is already sufficiently demanding without contending with unfamiliar equipment! We can also provide a package to train single tank divers in use of backmount or sidemount configuration to prepare for technical or cave training.
Sidemount has become a lot more popular over the last few years. A lot of divers are doing their entry level cave training in sidemount whereas it was previously a more advanced technique for small cave.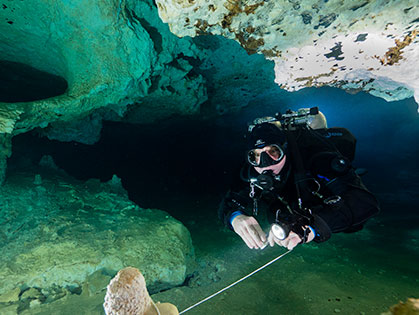 What is the difference between Full Service and Guide Only Cave Guiding?
Full Service cave guiding includes everything – cylinders, gas, transport, entrance fees, lunch and any equipment you need (except sofnolime). Basically you can turn up naked and the day of diving will still be possible, although we would prefer it if you didn't! Guide only includes only guiding and transportation. You need to provide or pay separately for cylinders, gas, lunch, entrance fees and equipment.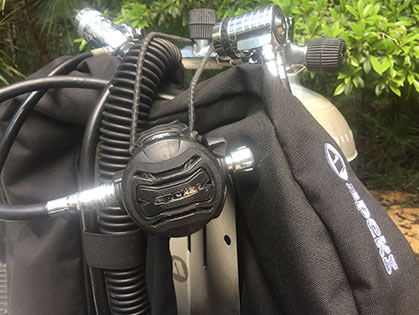 Do you provide equipment?
Equipment rental is included in all our courses and cavern tours. We pride ourselves on providing the best rental equipment in Mexico and furnish our guests with Apeks regulators, Halcyon Wing BCs and Fourth Element wetsuits.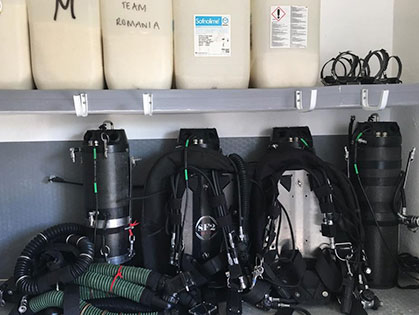 Very much so! Claire and Lanny are both CCR divers and we can provide sofnolime and oxygen for your CCR. We also have SF2 CCRs available for rental, as well as JJ/Inspiration 3L steel cylinders, Sentinel 2L cylinders and Al80 bailout cylinders.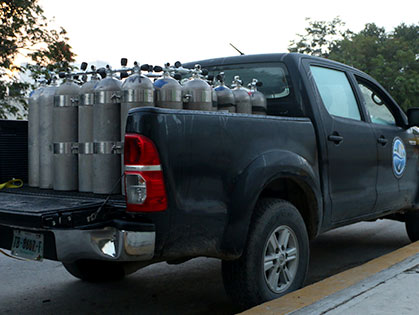 We do not have a compressor on site to avoid disturbing our guests. We use the reputable local fill station at ProTec and can also supply helium and oxygen as required. All our guided dives and courses (other than trimix courses) are conducted with 32% Nitrox.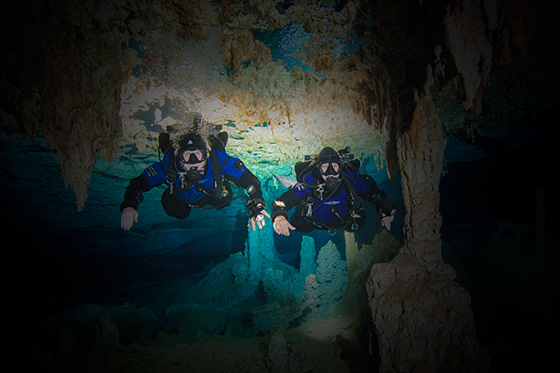 Why Should I Dive with Underworld?
We aim to provide the best possible service to allow you to enjoy the superb diving here in Mexico. There are a few things that we think set us apart:
• We only run one tour per day. Our friendly guides will provide a great day at your preferred pace, providing a delicious leisurely lunch and as much background information about the caves as you want. You will not be rushed through a dive on an Underworld tour.
• Our vehicles are well maintained and carry oxygen and a full first aid kit. All our guides are first aid trained.
• Our rental equipment is the best available and is regularly serviced by a qualified technician. Our Apeks regulators, Halcyon wing BCs and Fourth Element wetsuits are what we use in our own cave diving, so why should our customers have to dive in inferior gear?
• Our price includes everything. There is no supplement for equipment rental or remote/expensive cenotes.
• We use Nitrox on all our tours at no extra cost.
• All our tours are in small groups. Although the maximum ratio for cavern diving in Mexico is 4 divers per guide, we allow no more than 3 divers per guide for your safety and enjoyment.
• All our guides are also diving instructors and experienced, active cave divers.