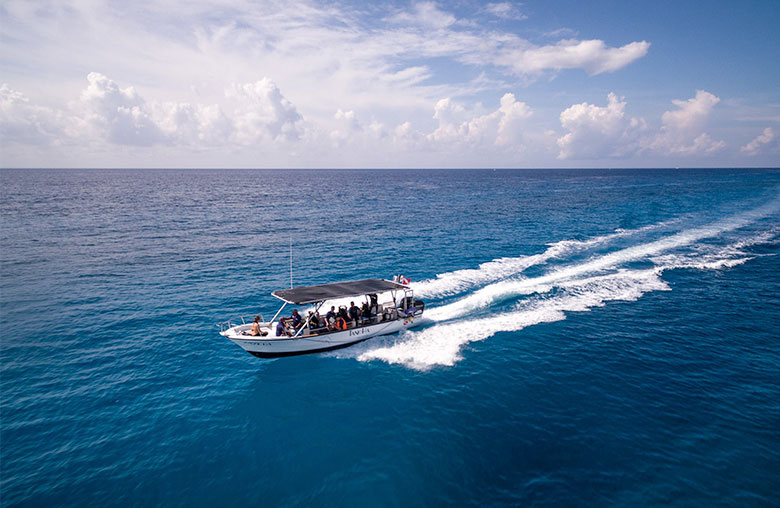 Underworld's accommodation is purpose built for visiting groups and clubs
With lots of kit storage, WiFi, cooking facilities, a pool and a big social area/bar with BBQ and pizza oven.
Tulum is a unique diving destination, within half an hour of nine of the ten biggest underwater cave systems in the world and having the Meso-American reef system (second only to the Great Barrier Reef) just off the coast.
We can make all the arrangements to make your trip run smoothly.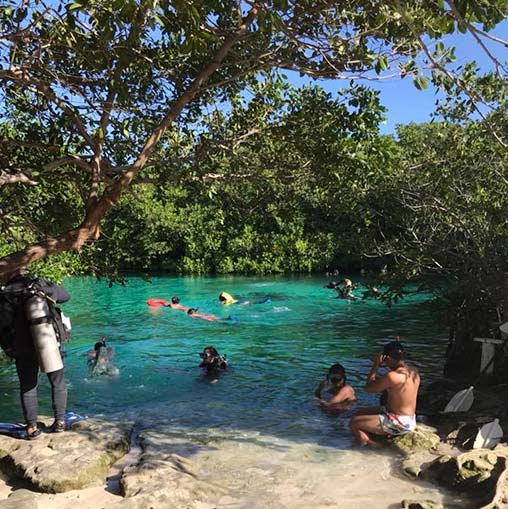 Sample Itinerary for Groups and Clubs
This programme is based on a two week trip, but seven or ten day or bespoke packages are available.
| | |
| --- | --- |
| Day 1 | Arrival |
| Day 2 | Jet Lag Recovery, Tulum Orientation, Equipment Sorting |
| Day 3 | Cavern Brief, Cavern Dives at Ponderosa and Chikin Ha |
| Day 4 | Cavern Dives at Dos Ojos |
| Day 5 | Deep Sinkhole Dive at Angelita, Cavern Dive at CarWash |
| Day 6 | Ocean Diving - Turtles at Akumal |
| Day 7 | Off Gassing Day. Mayan Ruins or BioSphere Tours Available |
| Day 8 | Cavern Dives at Chac Mool |
| Day 9 | Ocean Diving - Playa del Carmn or Cozumel |
| Day 10 | Cavern Dives at Tajma-Ha and Temple of Doom |
| Day 11 | Deep Sinkhole Dive in The Pit, Cavern Dive |
| Day 12 | Cavern Dives at Dreamgate |
| Day 13 | Kit Drying/Tourism Day. Complimentary farewell BBQ in the evening. |
| Day 14 | Departure |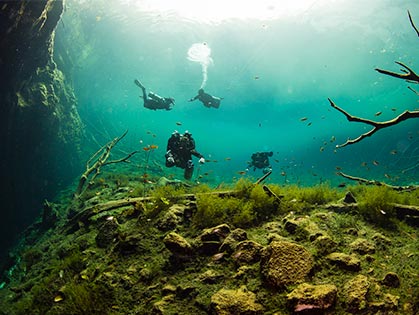 Design Your Own Bespoke Diving Trip
Design and delivery of your bespoke diving trip. We have a lot of experience in organizing trips and expeditions to remote locations and can provide you with a great package to suit all levels of diving.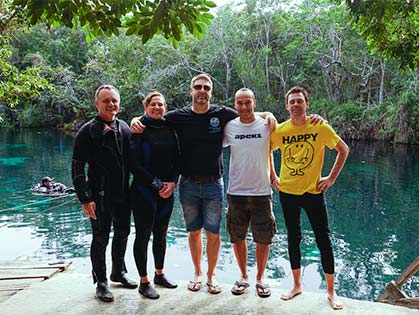 BSAC Centre
We are the only BSAC Centre in Mexico and can provide training up to Advanced Diver and most Skill Development Courses. We don't charge extra for BSAC courses – just the cost of the dives and course materials.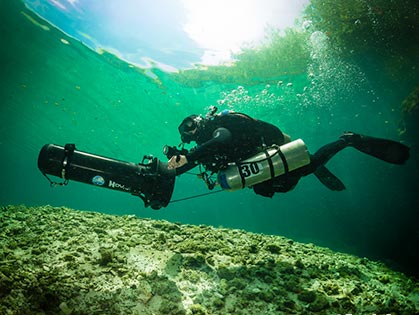 Recreational and Technical DPV Courses
We can also offer special rates on recreational or technical DPV courses using our Seacraft and Halcyon scooters – the most fun you can have underwater!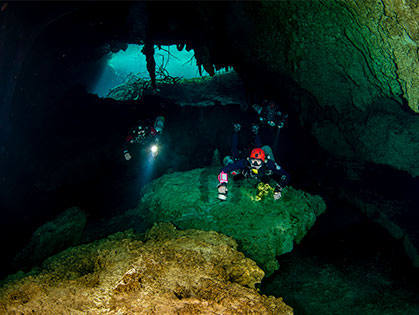 Cave and Technical Training
All levels of cave and technical training are available if divers want to get a bit further in the caves or deeper in the ocean.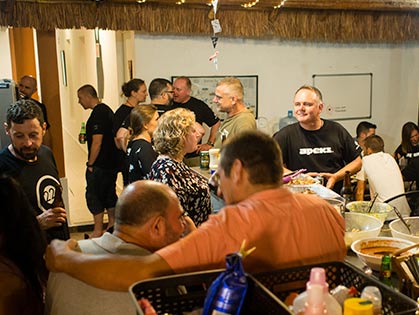 Palapa Bar
Our Palapa bar is great for post-dive socials, and we will put on a free BBQ or Pizza night for your group.
Get in touch for more information, or a quote for your bespoke trip!